Ina Breuing – your interpreter and translator in Cologne for German, Italian, English and French
As conference interpreter, I allow you to communicate your message to the world. Whatever is needed, bit precise technical terms or linguistic nuances, I put your guests at ease – allowing them to follow presentations, lectures, conferences, business meetings and conventions in their own native tongue.
It will be my pleasure to serve as your simultaneous interpreter for Italian, English and French. If you have any questions, I will be glad to advise you on any and all aspects of interpreting surrounding your event.
Download Checklist for yout Event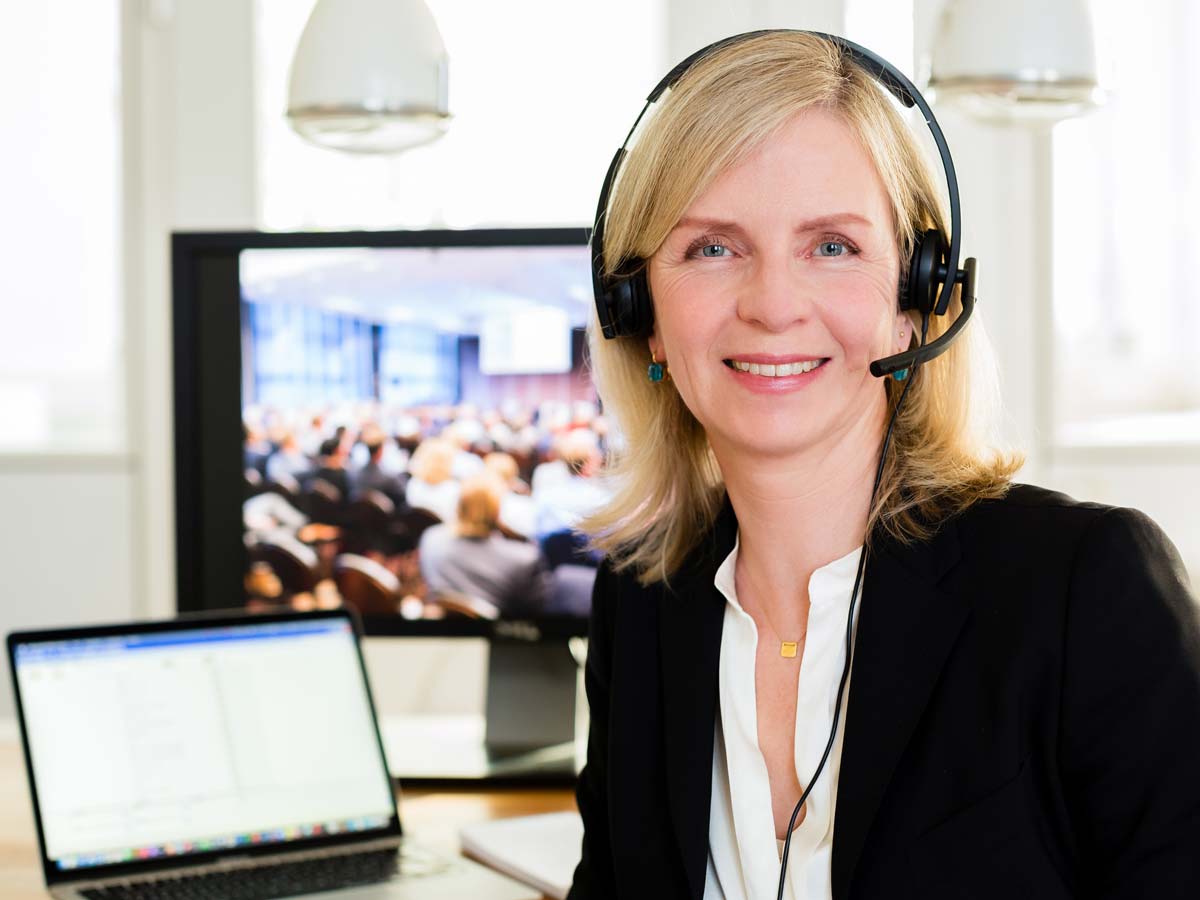 Here your guests are linked virtually via a platform, e.g. Zoom. As for me, your interpreter, I work from a hub. I take care of the interpreting equipment together with partner companies that supply the conference equipment
If you need support at a live event, I offer my services at the venue itself, both simultaneously and consecutively – as well as at press conferences, meetings, round tables and much much more. I will also be glad to advise you on the technical details.
Translation of written texts
I am also a translator for German, Italian, English and French, so I can help you translate your written documents into the language your guests need.
My network of more than 800 highly qualified interpreters covers 27 languages and a wide range of specialised areas. It would be my pleasure to put together a team that meets your language needs.
A wealth of experience from more than 1400 interpreted assignments
On top of the solid bedrock of a university degree in German, Italian and French, I can in addition draw on a wealth of experience, having interpreted for clients and their guests at several hundred events. Thanks to numerous stays abroad, where I have been able to immerse myself in the local culture, I am both sensitive to cultural nuances and familiar with linguistic subtleties and regional dialects.
Learn more about me
Interpreting in Germany, internationally and online
My clients come from all over Germany. Based in in Cologne, in the very heart of Europe, I will be happy to travel to your venues, be it in Bonn, Düsseldorf, Hamburg, Berlin, Stuttgart, Munich, Frankfurt or outside Germany – in Europe or the rest of the world. I can also provide my interpreting services in an equally solid and reliable manner for online conferences via Zoom, Teams or other platforms, and once again: I am there to support you on any technical questions you may have.
My Services
Interpreter for business, industry, media and politics
I work as a conference interpreter for staging organisations in the fields of art, culture and media, politics and society, as well as business and industry. Architecture, mechanical engineering, automotive engineering and insurance are some of the specialised areas in which I am at ease, with many years of experience providing linguistic support to small as well as large companies and institutions alike.
Testimonials

"Mercurio is a German-Italian business association. Business, society and culture are close to our hearts.
It is precisely in these areas that Ina Breuing is distinguished by excellence.
She has been interpreting at our annual Mercurio Business Award ceremony since 2014.
Her linguistic skills, her cultural knowledge and her nimble manner of interpreting have always impressed us and our guests.
Even when faced with technical challenges, she always remains highly professional and never loses command.
We believe that when Ina Breuing interprets for us, it strengthens our image, while our guests feel appreciated and welcome."
Dott.ssa Simone Protti
Conference interpreters promote understanding
So your guests speak English as a foreign language? I would nevertheless recommend that you use interpreters to make double sure that your event is a success. Pure and simple: this allows participants to express themselves more confidently and precisely in their own native language, not to mention better understand what is being said. Empirical proof of this has also been produced by a study carried out by the University of Vienna. Let me support you in planning your event.
Get in touch